Tulip Time On The Romantic Rhine And Mosel River Cruise
April 23 - May 3, 2017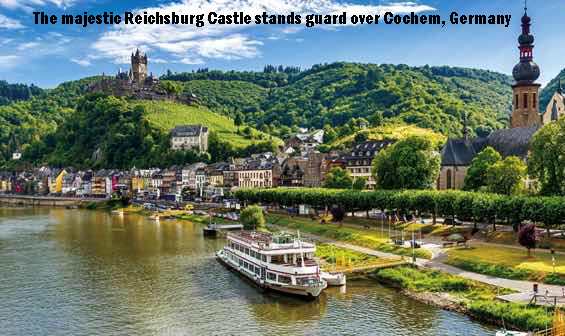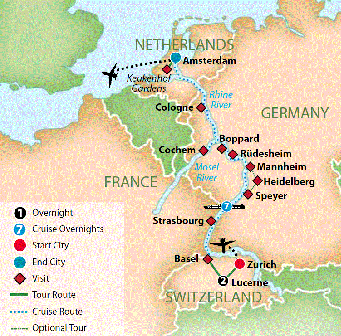 The past cruises were sailing adventures on tall ships (brigatines), this cruise is something entirely different, but still has the intimacy of small size (80 cabins). This time the cruise is with Mayflower Tours, each tour has a professional Tour Manager on board to ensure all details are taken care of. In addition, the owner of High Country Travel & Tours, Julie Mincey will be traveling with us as our personal travel agent. To watch a 5 minute video about the river cruise click on this link.
Julie Mincey has sweetened our deal! In addition to a $100 per person reservation discount she is adding the optional Mt. Pilatus tour ($125 per person) and the Heidelberg tour ($75 per person) into the cruise package – if you confirm your reservations by October 31.If you are interested in this cruise, I recommend you reserve a cabin now. The $400 per person payment is fully refundable up to 91days prior to departure – January 20, 2017. Call Julie at (252) 631-1003. Not only will you be able to select your cabin, Julie will be able to start working on airline reservations for you. Some cruisers are interested in having a few extra days prior to the cruise - let Julie know if you are interested.
Even though April 23, 2017 seems far away, past experience shows cruises fill up quickly. Four pages describing the itinerary, river-boat, and cost structure is available flyer. Note the '2 for 1' airfare associated with this sailing. . All payments, including travel insurance, must be completed by January 10, 2017.
This adventure includes:
Begin in Lucerne, Switzerland with a two-night stay and touring
Cruise through the heart of central Europe aboard the MS Emerald Star
Shore excursions in Lucerne, Strasbourg, Cochem and Cologne
Narrated cruising through the World Heritage Region of the Rhine River Valley
A chance to explore the beautiful Reichsburg Castle
A narrated canal cruise in Amsterdam
A visit to Keukenhof Gardens at the height of tulip season
All onboard lunches and dinners are served with complimentary regional wines, beer and soft drinks
Heated swimming pool, a cinema and complimentary WiFi
Evening events and Local Insights onboard